The Mission: Accelerating Sustainable Initiatives in Chicago's 77 Community Areas
Community-based sustainability initiatives are taking place across the metropolitan area of Chicago. These, however, are often relatively isolated activities with limited interaction between them. Though many organizations, foundations, companies, and government agencies have programs and resources to assist local sustainability efforts, many communities are unaware of these opportunities or unfamiliar with ways to access them.
The Institute of Cultural Affairs (ICA) is the organizing sponsor of "accelerate 77" and created the program in order to increase the role and positive impact of local community actions. Our underlying strategy is to IDENTIFY current sustainability initiatives in all of Chicago's 77 community areas; CONNECT them with one another to inspire new ideas, practices, self-consciousness and motivation through peer interchange; and COLLABORATE with residents in systematic learning, planning, and collective action.
It is anticipated that the project will thereby ACCELERATE sustainability in a bottom-up fashion driven by practical action, expanded imagination, and greater organizational capacities among local groups. A key part of the accelerate portion of the mission is the emerging Chicago Sustainability Leaders Network (CSLN) which is a diverse, intergenerational group working on a wide vareity of issues in communities across Chicago who are passionate about learning from one another and working across communities for widespread, lasting change.
---
SUBMIT YOUR CSLN PROFILE HERE!

Having your profile submitted is a requirement to participating in the city roundtable discussion!
---
Mark Your Calendar for 2015 CSLN Meetings!
2015 meeting dates are
every other month on the second

Wednesday, 4:30-7:30
, as always at different locations. Dates are

April 8th

,

June 10th

,

Aug 12th

,

Oct 14th and Dec 9th

.
---
CSLN UPDATE
---
Next Chicago Sustainability Leaders Network Meeting & ioby Campaign PARTY

April 8th @ The Den

1333 N Milwaukee Ave, Chicago, IL 60622




Discuss CSLN's West Side outreach and City/policy work. Then celebrate 4 collaborative projects featuring 26 partners. Listen to their project pitches and support your CSLN colleagues and help them reach their goals as they cross the finish line! Enjoy food, drinks (cash bar), and community spirit!

Agenda

4:30-5:30 CSLN Network Meeting will be Open Space discussions, including:

CSLN/City of Chicago relationship:

Follow up on the City roundtable and discuss the CSLN's role in policy work.

West Side Outreach/On The Table:

Do you know organizations on the west side of Chicago who might be interested in hosting or participating in an On The Table discussion? Invite them to the meeting!

Hubs:

Are you interested in becoming a CSLN sustainability hub in your neighborhood? Learn about and share resources for workshops, support, etc.
ToP facilitation training for CSLN members:

Learn about formal workshops in consensus building and strategic planning that the CSLN can provide members.

Welcoming new CSLN members:

New to the CSLN? Learn about the past year, upcoming focus areas, and efforts to collaborate with other members.

Your topic here:

Lead a conversation about a topic you're passionate about - share knowledge and expertise, plan an event, and more!

5:30-7:30 ioby CSLN campaign PARTY

After some quick updates and announcements from the Network, hear short campaign pitches from the four ioby project leaders! All the while there will be networking, eating, drinking and donating!
---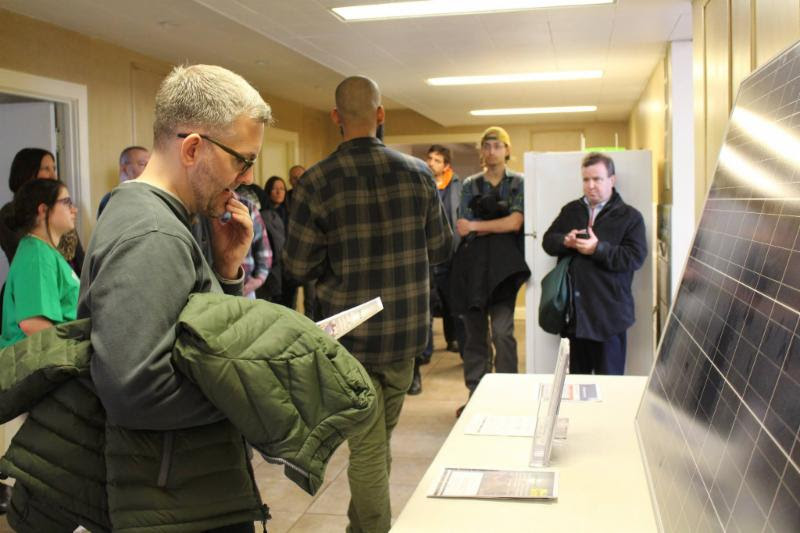 Fourth Annual One Earth Film Festival A Big Hit at CSLN Hubs!
Over the past weekend 40 inspirational films were screened at 30 different locations in Oak Park/River Forest. At the northside CSLN Hub, Green Community Connections, animalia project, Ginkgo Organic Gradens and the Institute of Cultural Affairs came together to deliver a day of thoughtful film, panel discussion, tours of a solar-powered, food-producing, community-focused landmark building and micro-workshops on urban gardening. There was also members of Oxfam America, Shift, and the Chicago Market coop at the events to engage with participants about getting involved in Chicago!
If you viewed any of the films this past weekend (or previously) don't forget to vote for your favorite here! A jury of filmmakers and environmental leaders will screen the top 3 selections. The winning Festival Choice film will be shown in downtown Chicago on Earth Day, as part of the City of Chicago's Earth Day celebrations!